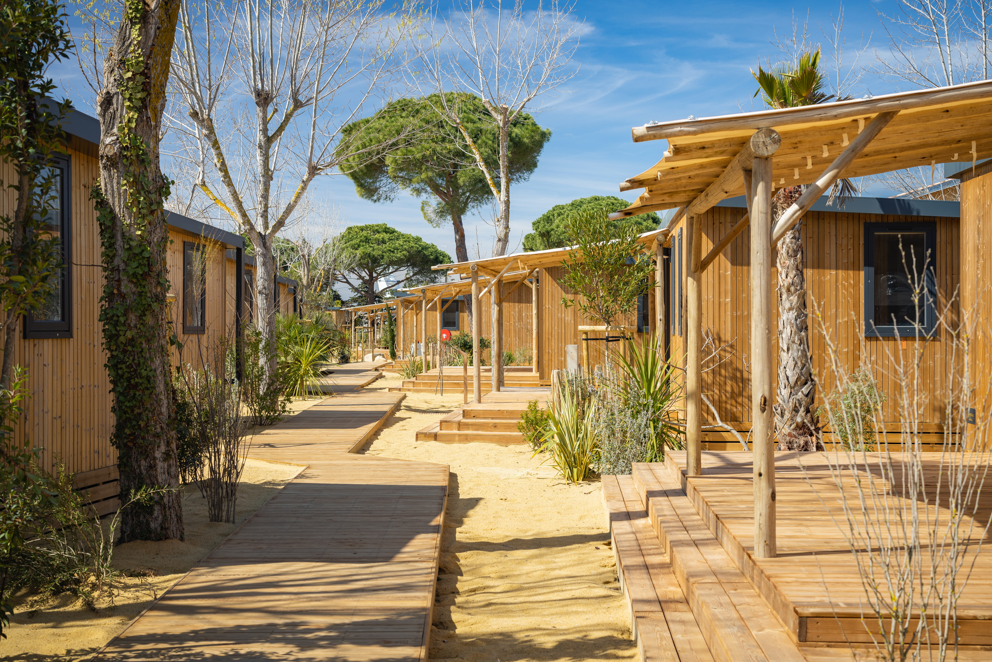 Roompot Beach Resort Agde welcomes first guests on 30th June
Cap d'Agde, Thursday 29 June 2023 - Roompot will open the brand new Roompot Beach Resort Agde on the French coast near the village of Le Grau d'Agde on Friday 30 June 2023. Close to the Mediterranean, this resort is in a region famous for good wine and great oysters. A place to unwind and enjoy all the good things of La Douce France.
Tomorrow, Roompot will welcome its first guests to the brand new Roompot Beach Resort Agde. From their modern chalet on this little paradise, holidaymakers will visit the vineyards, dive into the clear waters of the Mediterranean, visit the region's cosy coastal towns and cities and, above all, create unforgettable holiday memories.
Modern design & luxury lodges
Developer InLeisure, the architects and Roompot worked together to create a unique design that matches the landscape. Local, beautiful planting created natural privacy for all guests.
Roompot Beach Resort Agde has 5 types of luxury accommodation, spread over 76 lodges. The lodges can accommodate 4 to 8 guests and all have a sitting area, dining area, television, a well-equipped kitchen and a veranda with garden furniture. Free WiFi is available of course, and each lodge has at least two comfortable bedrooms and a bathroom, or more, depending on the size of the property. Two lodges are adapted for disabled persons.
In addition, the resort has a brasserie with a menu featuring delicious local produce. There is a snack corner, a mini shop, a Kids Club and a heated outdoor pool. Those extra services complete the resort and give guests a great holiday experience.
The high standard of finish of the lodges and the unique landscaping make Roompot Beach Resort Agde an unparalleled and unique holiday paradise in the region.
A sustainable park
Developer InLeisure developed the resort with a big focus on the planet, based on the principles of Green Key certification. Green Key is the international hallmark for sustainable (leisure) businesses. In fact, Roompot has an ambitious sustainability programme and wants to make unforgettable holidays a reality in Cap d'Agde too, with a positive impact on nature, the region, people and the climate. In the construction of Roompot Beach Resort Agde they have worked with sustainable building materials and also pursue a sustainable purchasing policy, for example: this involves working with local products as much as possible so that the ecological footprint remains minimal.
Flamingos and volcanic beaches
There is much to discover, do and see in the area. The picturesque Sète with its many canals and colourful buildings might remind you of Venice. Impressive history can be found in Béziers, where a visit to the cathedral is a must. The most beautiful view of the region? Cycle or hike to the top of the extinct Mont Saint-Loup volcano. You will not only see the villages and the sea, but the many nature reserves and lagoons where flamingos breed too. The volcanic eruption of thousands of years ago also makes the coast of Cap d'Agde a true underwater paradise. The black-grey sand of the volcanic beaches forms a great contrast with the sandy beaches in the rest of the region.
Collaboration between Roompot and InLeisure
Leisure developer InLeisure found the ideal place for the sun-drenched holiday accommodation in the Languedoc-Roussillon fishing village of Le Grau d'Agde. The place previously housed Camping Les Romarins and has now been upgraded.
InLeisure developed this destination and Roompot will operate it. Previously, they successfully collaborated on the opening of Roompot Gulpen (Netherlands, Limburg) and Roompot Glamping Lauwersmeer (Netherlands, Groningen). Roompot Beach Resort Agde is their first collaboration in France.
Last week, Roompot also officially opened Roompot Park Eksel in Belgian Limburg.
Team of 15 staff members
Roompot Beach Resort Agde is the 60th holiday destination in France in Roompot's portfolio, but the first that Roompot itself will open and operate. 
On Friday 30 June 2023, the resort's 15 staff members will welcome the first guests.
Guests can book their stay at Roompot Beach Resort Agde at www.roompot.com
About Roompot
Roompot is a leading provider of holidays and accommodations in Europe. With more than 200 unique holiday destinations, Roompot offers something for everyone, ranging from tranquility and space to conviviality and activities, from sea and beach to forest and hills, from beach houses and holiday homes to design villas, and from glamping to luxury camping on a farm.
More than 2,100 employees are available every day to help guests enjoy a well-deserved holiday. About 13 million overnight stays are booked every year in Roompot's more than 17,000 holiday accommodations in the Netherlands, Germany, Belgium, France and Spain.
Roompot guarantees quality, flexibility and hospitality. The holiday provider has been providing unforgettable holidays for young and old for more than 50 years.
Read more on news.roompot.com
---
Images in high definition
---

Baptiste van Outryve
Woordvoerder - Porte-parole - Spokesperson, Roompot