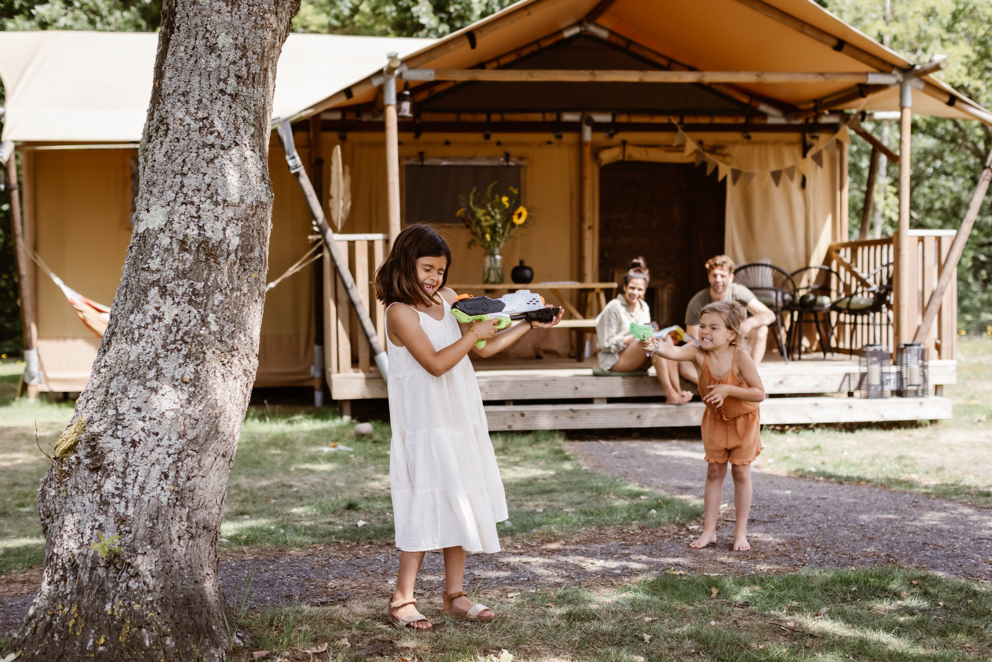 Roompot Glamping Lauwersmeer welcomes its first visitors on 30 June
Vierhuizen, Groningen, Friday 23 June, 2023 — Roompot opens the stunning Roompot Glamping Lauwersmeer in the Netherlands, in the vicinity of the Lauwersmeer National Park, on Friday, June 30. Set alongside the vast meadows and forests, people here find themselves in a region famed for its amazing landscapes and starry skies. Somewhere to relax and enjoy all that's great about this spectacular Groningen landscape.
In just one week's time, Roompot welcomes its first visitors to the stunning Roompot Glamping Lauwersmeer. While staying in a comfortable safari tent, holidaymakers can explore nature in Lauwersmeer National Park, swim in the Lauwersmeer lake, visit the quaint city of Groningen and, above all, create unforgettable holiday memories.
Sturdy safari tents and luxury facilities
Developers InLeisure have worked alongside the architects and Roompot to create a unique location that blends into the landscape. Visitors enjoy natural privacy thanks to landscaping with beautiful, native plants.
Roompot Glamping Lauwersmeer offers 76 luxury accommodation in the form of sturdy safari tents. These comfortable tents can sleep from 2 to 6, and all come with seating and dining areas, a practical kitchen, luxury bathroom and veranda. There is free Wi-Fi and of course each tent comes with comfortable beds.
The site also boasts a reception, takeaway food outlet and mini market in the old inn. These extra services complete the picture and deliver a fantastic holiday experience for visitors.
The extremely comfortable tents and unique glamping experience make Roompot Glamping Lauwersmeer a particularly special holiday paradise in the area, appealing to a very broad target group.
A sustainable park
Developers InLeisure have worked on the site with a huge focus on the planet, working on the principles of Green Key certification. Green Key is the international hallmark for sustainable (leisure) businesses. In fact, Roompot has an ambitious sustainability programme and wants to make unforgettable holidays a reality in Lauwersmeer too, with a positive impact on nature, the region, people and the climate.
In developing Roompot Glamping Lauwersmeer they have worked with sustainable building materials, and also have a sustainable procurement policy in place. This involves, for instance, working with local products as far as possible, so that the ecological footprint is kept as small as possible.
Every luxury glamping tent is also all electric. This means the accommodation no longer uses gas: heating uses electric boilers, and the cookers are all induction.
Boating, swimming and stargazing
There is much to discover, see and do in the area. You can go sailing and swimming, and enjoy fantastic stargazing as the nights are so dark. Visitors can enjoy the vast meadows and forests, and the unique nature in the Lauwersmeer National Park.
Lauwersmeer National Park has been a 'Dark Sky' park since 2016. This means it gets really dark here at night, so on clear nights you can get a spectacular view of the starlit sky. Truly special, as there is only one other Dark Sky park in the Netherlands.
Collaboration between Roompot and InLeisure
Leisure developers InLeisure found the ideal spot for a unique glamping experience in the village of Vierhuizen, Groningen: in the heart of nature in the Netherlands, with all the amenities for a wonderful holiday.
InLeisure developed this destination and Roompot will operate it. They have already worked successfully together on Roompot Gulpen and Roompot Beach Resort Agde in France, which also welcomes its first guests visitors next weekend. Roompot Glamping Lauwersmeer is their latest collaboration in the Netherlands.
---
Images in high defintion
---

Baptiste van Outryve
Woordvoerder - Porte-parole - Spokesperson, Roompot