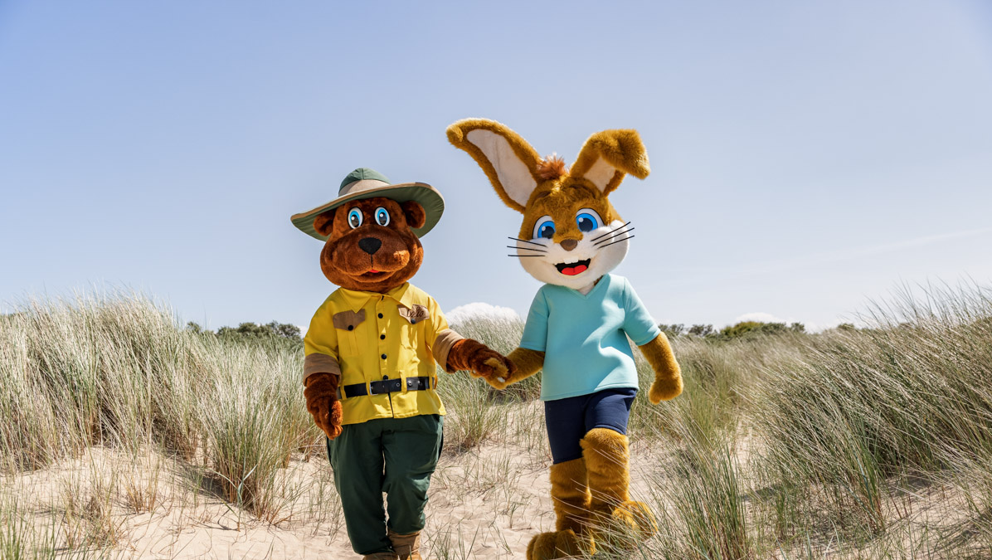 Roompot and Landal GreenParks move forward together
Together offering 305 holiday destinations in Europe
Goes and The Hague, Wednesday 12 April 2023 – Roompot and Landal GreenParks have been given permission to move forward together by the Netherlands Authority for Consumers and Markets (ACM). The travel providers already previously received approval at European level. Together, Roompot and Landal GreenParks offer unforgettable holidays at 305 holiday destinations in eleven European countries. Nothing changes for the guests.
Roompot and Landal GreenParks are pleased with the approval from the ACM. Following, among other things, the consent of the European and Dutch competition authorities, the acquisition of Landal GreenParks by Roompot can take place on Tuesday 18 April.
Together, Roompot and Landal GreenParks will form one organisation, thereby offering their guests the highest quality and most versatile holiday options; from feet in the sand to the snow and from unforgettable holidays in nature to carefree summer breaks in Southern Europe. From spacious camping pitches to luxury designer villas and from tiny houses to beach villas, including sustainable lodges and luxury camping opportunities on farmland. All this at 305 holiday destinations in eleven European countries.
Roompot and Landal GreenParks will start integrating both organisations. A first step in the integration is the composition of a joint executive board. As announced in June 2021, the company wishes to maintain a regional distribution of employees and make optimal use of talent in an international setting. It will therefore operate from several offices in the Netherlands and be represented via regional offices abroad. At present, the parks of Landal GreenParks can be booked on the Landal GreenParks website and Roompot's selection can be booked on the Roompot website.
In addition, Dormio Group is acquiring 30 Dutch parks from Roompot and Landal GreenParks. This was a condition of the ACM when Roompot acquired Landal GreenParks. Dormio Group is also taking over the affected park employees and the previously made bookings from the guests.
The parties involved are not communicating about the financial conditions.
---
Key figures
 

Roompot & Landal GreenParks

Number of holiday destinations (after acquisition of 30 parks by Dormio)

305

Number of holiday accommodation and camping places

Over 30,000

Number of countries in offerings

11
​The Netherlands, Germany, Belgium, Denmark, France, Spain, Austria, Switzerland, Czech Republic, Hungary, United Kingdom

Number of nights spent in 2022

Over 25 million

Number of employees

Approx. 5,500
---
About Roompot
Roompot is a leading provider of holidays and accommodation in Europe. With more than 200 unique holiday destinations, Roompot offers something for everyone: from tranquillity and space to cosiness and activities, from sea and beach to forest and hills, from beach houses and holiday homes to designer villas and from glamping to luxury camping on farmland.
More than 2,100 employees are available every day to make sure guests can enjoy a well-deserved holiday. Every year, around 13 million overnight stays are booked in Roompot's more than 17,000 holiday accommodations in the Netherlands, Germany, Belgium, France and Spain.
Roompot guarantees quality, flexibility and hospitality. For more than 50 years, the holiday provider has been providing unforgettable holidays for young and old.
More information on news.roompot.com
About Landal GreenParks
Landal GreenParks operates more than 100 destinations in the Netherlands, Belgium, Germany, Denmark, Great Britain, Austria, Switzerland, the Czech Republic and Hungary. Landal GreenParks currently offers 15,000 holiday accommodations and 1,300 camping pitches. Every year, more than 3.2 million guests choose Landal GreenParks and spend 15.6 million overnight stays at its locations. Approximately 3,400 employees work at the parks and the various office sites.
Landal GreenParks has an ambitious sustainability programme and wishes to create unforgettable holidays that have a positive impact on nature, region, people and climate. In 2023, Landal GreenParks was named the most sustainable holiday park provider by the Sustainable Brand Index for the sixth consecutive year.
Landal GreenParks also includes the following brands: Hof van Saksen, Landal Ski Life, Landal Camping, Landal Business Line, Landal Makelaardij and Vakantiemakelaar.
More information on newsroom.landal.com
About Dormio Group
Dormio Group has been developing luxury holiday resorts and hotels in top tourist locations since 2001. As a project developer and intermediary, Dormio Group is responsible for the sale, rental and management of the holiday homes, apartments and/or hotel rooms at these resorts and hotels. Thanks to Dormio's market knowledge, involvement and love for the leisure industry, which you can see in the resorts and hotels, both customers and guests are put entirely at ease. Dormio Group employs around 400 people every day in the various countries, 85 of whom work at its headquarters in the centre of Arnhem. The portfolio currently consists of twelve locations in the Netherlands, Germany, Austria, France and Spain. For more information, visit the website: www.dormiogroup.com
---
Note to the editors (not for publication):
For more information about Roompot:
​Baptiste van Outryve, Corporate Communications manager ​
​Phone: +31 (0)6 30 94 78 24 or +32 493 241 884
​Email: [email protected]
​More information, images and press releases about Roompot can be found on news.roompot.com
For more information about Landal GreenParks:
​Jeannette ten Kate, Corporate PR Manager,
​Phone: +31 (0)88 205 9709 or +31 (0)6 - 53 89 24 45
​Email: [email protected]
​More information, images and press releases about Landal GreenParks can be found on newsroom.landal.com
​​
​For more information about Dormio Group:
​Annelijn Oviawe ​
​Phone +31(0)6 598 382 46
​Email: [email protected]
​More information, images and press releases about Dormio can be found on dormiogroup.nl/pers
---
High-resolution image